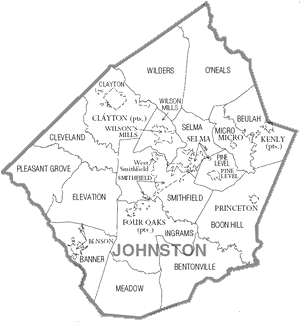 Johnston County was formed from Craven County in 1746 and named for Gabriel Johnston who was the royal governor of North Carolina from 1734-1752. It was later used to form parts of Dobbs, Orange, Wake and Wilson counties, but gained territory from Orange County in 1761 and from Duplin County in 1777.
In 1752, parts of Johnston County, Bladen County, and Granville County were combined to form Orange County.
On April 8, 1754, the creation of Johnston County was repealed by King George II along with several other counties. It was recreated in September 1756 by the legislature in response to Crown instructions.
The eastern portion of Johnston County became Dobbs County (now extinct) in 1759, while parts of Johnston, Cumberland, and Orange counties were combined to form Wake County in 1771. In a final partitioning, portions of Johnston, Edgecombe, Nash, and Wayne counties were combined to form Wilson County in 1855.
The first county courthouse (1747) was located near what is now Clayton, while a second was built in Smithfield in 1771. Replacement courthouses were built in Smithfield in 1786, 1843 and 1921. According to the Story of The Counties of North Carolina With Other Data, Federal troops advancing on Raleigh in 1865 threw out a number of courthouse records although very few were actually lost.
The first book of wills begins in 1760 as part of a complete set, but the entries are not in any particular order. Minutes from the county court begin in 1784, however several books are missing. Marriage bonds from 1760 to 1868 are indexed into a special book. Although missing the year 1800, deed books are complete starting from 1759.
Currently, Johnston County has an estimated population of 215,986 (2020), and encompasses an area of 796 square miles. It is one of the fastest growing counties in the United States.
For more Johnston County history, visit the Greater Smithfield-Selma Area Chamber of Commerce, the Johnston County Heritage Center, NCPedia.com (Johnston) and NCPedia.com (Dobbs).