As the second census of the United States, the 1800 census was to be completed within nine months, using August 4, 1800 as the official enumeration date. Questions regarding residency and age were based on that date.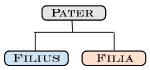 Using the name of the head of each household, Census enumerators were asked to count the number of free white males & females by age category, all other free persons (except Indians not taxed), and slaves. Enumerator Joseph Dickson delivered the 1800 Census for Johnston and Wayne counties to the Marshall on April 16, 1801.
Stamped and handwritten page numbers were later added to the census.